Kellyanne Conway is a famous Republican campaign manager, strategist and a pollster. Conway is a former CEO and the president for 'The Polling Company'. Currently, she serves as the counselor to the administration of the President of the United States of America.
Conway is known for her success as the first woman to run for a presidential campaign. However, she constantly embroils in a series of controversies; and if you are a fan of CNN or FOX, you have heard a lot about the work she has been involved with. Conway seems to dodge criticisms and controversies that come along her way and is having a wonderful time in the White House. Let us get to know more about this interesting politician.
Caption: Conway criticizes Husband's Anti-Trump Tweeting: Violation Of 'Marital Vows'
Source: dailywire.com
Kellyanne Conway: Early Life and Education
Kellyanne Elizabeth Fitzpatrick was born on the 20th of January, 1967, in Hammonton, America. Conway spent most of her childhood in New Jersey and holds an American nationality with white ethnicity.
Caption: Kellyanne Conway in 1996.
Source: businessinsider.com
For her education, Conway went to St. Joseph High School. She later joined Trinity College in Washington D.C. and is a magna cum laude graduate, having earned her Bachelors in Political Science. Next, Conway studied at Oxford University and graduated with a law degree from the George Washington University Law Center.
Kellyanne Conway: Career
When Conway was done with her law degree, she was a clerk for a judge in D.C. and spent almost four years as an adjunct professor at the GW University Law Center. She practiced law for several years before getting into the polling business where she worked with Ronald Reagan. She then started her own company 'The Polling Company' in 1995.
Later Conway had to resign from her post of a CEO from the company to take a post in the White House administration under president Trump. Throughout the years, Kellyanne has worked with different political personalities like Newt Gingrich, Fred Thompson, and Mike Pence. Her firm includes a division, 'WomainTrend', to create a connected corporate America with the female consumer.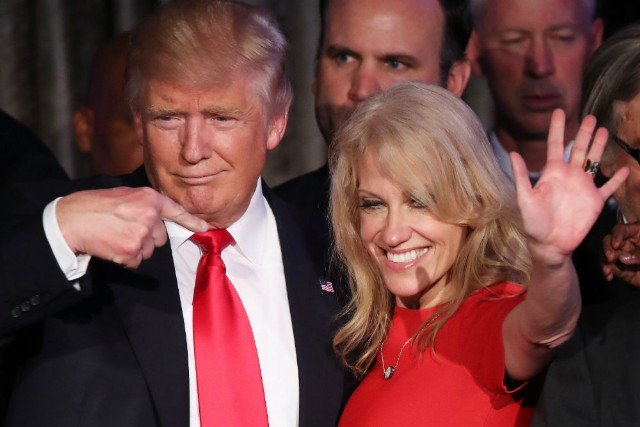 Caption: Trump and his advisor Kellyanne.
Source: spin.com
In 2016, Conway came out to the public after endorsing Ted Cruz in the Republican presidential primary. However, in mid-2016's after Cruz's suspension from the campaign, she left him and joined Trump as his senior advisor.
August 1, 2016, saw Conway become the campaign manager for Trump and in doing so, she became the first woman to successfully run a presidential campaign. She is currently a counselor to the president. She has been receiving countless offers to work as a director of White House but she seems to be in love with her position as of now.
Kellyanne Conway: Personal Life
Conway is married to her long-term boyfriend George Conway III; the couple said their vows in 2011. Her husband is also a Republican and has been a legal partner in a law firm. He is more known for his work with Paula Jones during the Clinton impeachment.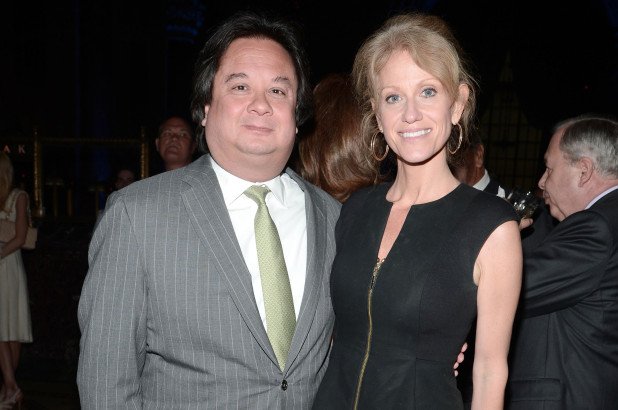 Caption: Conway with her husband George.
Source: nypost.com
Conway and her husband share 4 children: with twins Claudia and George, and Charlotte and Vanessa. The family currently resides in Alpine, New Jersey.
Kellyanne Conway: Net Worth
According to some reliable sources, Conway's net worth is around $40 million. According to the information she has disclosed, her assets are worth up to $39.3 million. Conway earns an annual salary of $179,700. In 2017, she bought a huge mansion for $8 million. The 1990's house is located in the Massachusetts Avenue Heights neighborhood.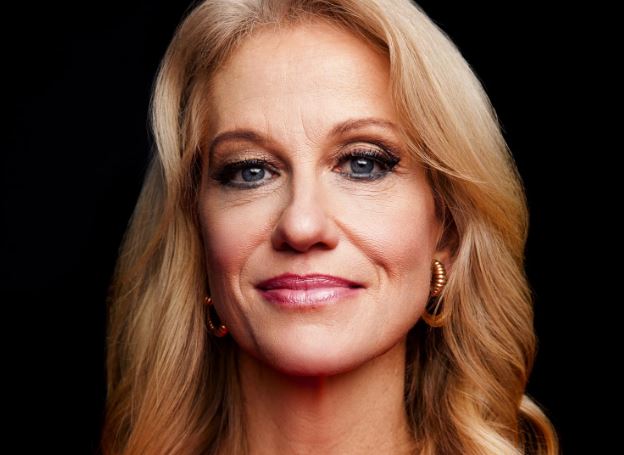 Caption: Kellyanne Conway for the Washington Conway.
Source: washingtonpost.com
Conway is also active on social media and has over 2.3 million followers on Twitter.