Marin Hinkle is an American actress who is famous for portraying Judith Harper-Melnick in the American TV sitcom "Two and a Half Men". With a career that has spanned over two decades, Hinkle has made appearances in over 30 movies and many other TV shows. More notably, she is famous for her works in "Breathing Room", "Frequency", "Speechless", and "Deception."
Growing up, Marine always dreamed of making it as a ballerina dancer. However, her dream was cut short after an unfortunate accident. Despite the accident, she was not the one to sit quietly in pain and went on to build a career for herself in acting. Let us now get to know a bit more about this gutsy lady.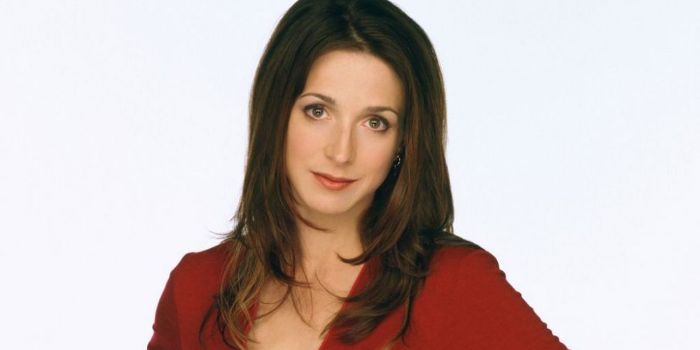 Caption: The beautiful actress Marin Hinkle.
Source: mtmtv.info
Marin Hinkle: Early Life and Education
Marin Elizabeth Hinkle was born on the 23rd of March, 1966, in Dar es Salaam, Tanzania. She was born to parents Margaret R. and Rodney Hinkle who were serving in the Peace Corps. While her father is an American, her mother is of Italian and Scandinavian descent. Hinkle later relocated to Boston, Massachusetts with her parents when she was only 4 and spent most part of her life there.
Caption: A much younger Marin Hinkle.
Source: pinterest.com
Next, for education, Hinkle went on to join the reputed Newton South High School. For her higher education, she joined Brown University and then the New York University's Graduate Acting Program at the Tisch School of Arts.
Marin Hinkle: Career
Marin first came into the scent with the role of Juliet in the theatre production of Romeo and Juliet. It was as the Shakespeare Theatre Company in Washington DC. It was, however, in 1995 that Marie made her debut on TV with a role of Alison Van Rohan in the soap opera, "Another World". She was next approached by ABC in 199 for the drama series "Once and Again" and roles started flowing ever since. She was seen as Judy Brooks in the show for a total of 58 episodes and this set a new foundation for her.
Caption: Charlie Sheen and Marin Hinkle on the set of Two and a Half Men.
Source: imdb.com
Marin's next big project came in form of one of the biggest American sitcoms, "Two and a Half Men" She played the role of Judith Harper Melnick and played her character from 2003 to 2015. Whilst working for the show, she was one of the major characters starring alongside names such as Ashton Kutcher and Charlie Sheen. In total, she was cast for 83 episodes for the show and her performance will always be in our minds. Apart from this, she has gone on to appear for the soap opera, "Deception", political drama series, "Madam Secretary", and the sitcom "Speechless." Despite being a successful actress in TV, she has made relatively fewer appearances in movies. However, she was cast to play roles in movies like "Imagine That", "Frequency", "Quarantine", etc.
Marin Hinkle: Personal Life
Looking at her personal life, Marin is a married woman. She married her longtime love Randall Sommer in 1998 and the couple has been together ever since. They have also been blessed with a child and are leading a wonderful life together.
Caption: Marin and her husband Randall.
Source: broadway.com
Marin first met Randall who is a New York theatre director and actor in 1992. She once said that her husband is a really passionate man who loves her deeply. The family now resides in Los Angeles and are living a life full of luxury.
Marin Hinkle: Net Worth and Social Media
Marin has been in the industry for over 20 years now and is one of the most successful actresses in her field. She is one of the more prominent names in the Television community and it does pay quite a lot. As of 2018, Hinkle has a net worth of $3 million and the figures keep rising. She also made over $50k per episode whilst working for the sitcom Two and a Half Men. In 2009, Marin went on to purchase a 3 bedroom house in Cheviot Hills, LA which cost her $1.74 million.
Caption: Marin Hinkle's home in LA.
Source: celebritydetective.com
Sadly, Marin is not active on platforms like Facebook, Twitter or Instagram. She likes to keep her personal life away from the media and her absence makes a lot of sense.