Pablo Escobar, who is widely known as El Doctor, El Patron, Don Pablo, and The Tzar of the Drugs, was a Colombian drug lord. He was also called "The King of Cocaine". The founder of the Medellin Cartel was a politician too. His cartel was an organization of drug suppliers and smugglers based in Medellin, Colombia. The cartel was responsible for smuggling up to 80% of illegal cocaine into the United States at that time.
Escobar was one of the most powerful and wealthiest criminal men in the world. Forbes magazine also listed him as the seventh richest man in the world. Escobar was a notable philanthropist who brilliantly built and expanded many social projects, help the poor, etc. However, of his remunerative business saw many deaths of the people which turned the opinion of the public. Colombian police shot him dead on 2nd December of 1993 while attempting to catch him. Let us find more about the "Tzar of Cocaine".
Caption: Pablo Escobar
Source: Universityacademia.com
Pablo Escobar: early life, education, and parents
Escobar, Lord of the drug dealer, was born in Rio-negro, Colombia on 1st December in the year 1949. His father, Abel de Jesus Dari Escobar, was a peasant farmer. His mother was an elementary school teacher. He had six siblings from his parents. Later his family moved to a suburb of Envigado.
Escobar had attended the Universidad Autonoma Latino Americana, Medellin and left without a degree. From an early age, he was very ambitious and wished to raise himself up by any means possible. Unfortunately, he chose the path that was quick but illegal. As a teenager, he used to sell and steal gravestones, contraband cigarettes, fake lottery tickets and also cars.
Caption: Pablo Escobar with his mate.
Source: fourfourtwo.com
Pablo Escobar: the career as a criminal
As stated earlier, he had started his career from his early age. Gradually, he began to be familiar with this dark way of living. Then he earned recognition as a lord of the drug as time passed. He began to work for various smugglers, kidnapping and ransoming, making himself a prominent figure in the drug world by smuggling cocaine powder in the 70's. Similarly, in 1975 his craving for smuggling made the first route into the United States.
By the time 1980, he was very successful in his business with the increasing demand of Cocaine supply in the USA. The estimation of supply was a tremendous 70 to 80 tons of illegal cocaine in the USA. These supplies were shipped on a monthly basis. With this, he was titled as "The King of Cocaine".
Caption: Pablo Escobar
Source: times.com
Pablo had a dream of being president of Colombia, which he had disclosed it in front of his close ones. In 1982, he stood up for the presidency and was elected as an alternate member of the chamber of representatives of Colombia. But by 1984, because of his illegal activities, he was forced to relinquish the seat in Congress.
Pablo Escobar: personal life and wife
Talking about his personal life, we know, from sources, that he had a happy marriage. He tied the knot with Maria Victoria Henao, who was 11 years younger to him. Therefore their relationship was considered socially inferior and people, for a long time, had not accepted it. Despite that, they eloped and got married in March 1976.
The couple had two children; Juan Pablo (Sebastian Marroquin) and Manuela. However, most of his family members chose to stay out of the spotlight since his death. Other than this, there isn't much information on his personal life.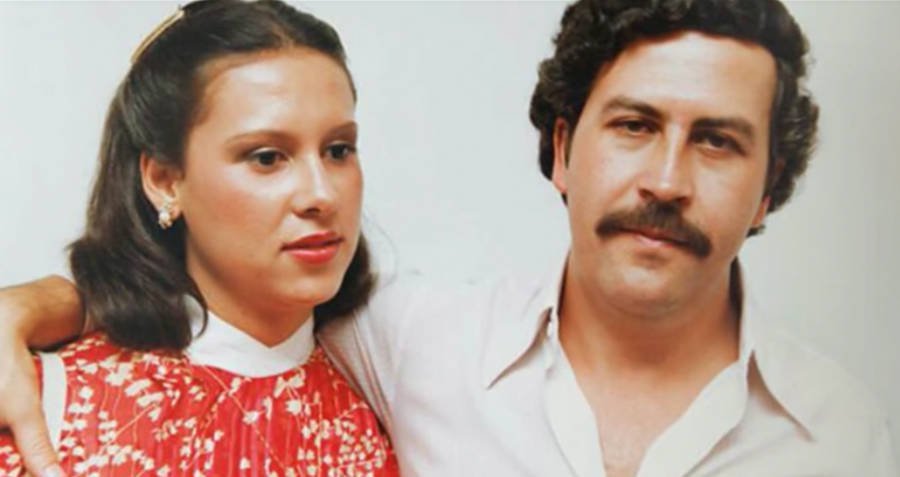 Caption: Pablo and his wife Maria
Source: allthatsinteresting.com
Pablo Escobar: net worth and house
As we know now that he was the wealthiest criminal of his time. Forbes even listed him in their magazine. He had accumulated billions from his illegal business. At the peak of his career, he had collected over $60 million through the profit of drugs. Therefore, he was so wealthy that he bought $25,000 monthly for rubber bands just to tie his cash. His net worth is estimated to be US 30 billion dollars which he collected through his indulgement in the drug business.
After his successful career, he could get everything that money could afford and houses were one of them. One of the luxurious house named "Hacienda Napoles" which was a palatial estate built in his hometown. His luxurious colonial house had a sculpture garden. Additionally, his house property also had a private zoo with imported animals from the various continent and reconstructed dinosaurs.
Caption: Escobar and Maria
Source: allthatsinteresting.com
He also used to own a house in Miami Beach, Florida, the USA which the government later seized in 1980. When he was about to serve time in a Colombian prison, he appealed to build his own specialized prison. After 6 months of appeal, the judge allowed him to build according to his specifications. The luxurious prison had a bathroom with Jacuzzi, bedroom with a rotating bed and a compound with a soccer field, discotheque, and a dollhouse for his daughter.
Pablo Escobar: Death and aftermath of his death
Escobar was shot dead on December 2, 1993, after 16 months of being on the run from "La Catedral". No one knows whether he shot himself or whether somebody shot him. But after the death of Escobar, rival Cali Cartel dominated his own Cartel. His Colombian house was turned into a theme park. The government repossessed most of his properties after his death. During official repossessing in his home, they found a self-help book called "The Power of Positive Thinking".
Caption: Pablo Escobar's body after police shot him in 1993
Source: ELPAIS.com
His life was so depicted that many movies and series were made in his life. There have been many movies released in his name like "Pablo Escobar: The King of Coke (2007)", "Escobar (2009)", and "Loving Pablo (2017)". Netflix has aired the three series titled "Narcos" from 2015-2017 depicting the life of Pablo Escobar. Netflix has also announced its upcoming fourth season on July 18, 2018. Also, writers have made him the subject of several books which include Escobar (2010), Kings of Cocaine (1989), and Killing Pablo: the Hunt for the World's Greatest Outlaw (2001) and many more.