Samantha Mathis is an American actress who came into fame after her roles in the movies like "Broken Arrow" and "American Psycho". Mathis, since a very young age has had a career in front of the screens and has spent most of her life in and around actors.
Samantha was born to Bibi Besch, a theatre actress; it is quite understandable for Samantha to be influenced by her mother's profession. She is an actress with a lot of talent and has been in this industry since the yearly 90's. When you really think about it, she has been underrated throughout the years. Mathis, however, has been pulling out some amazing performances for movies like "American Psycho" and "That Thing Called Love". These extraordinary roles have been responsible for her generous fan base.
Caption: Samantha Mathis on an event.
Source: digitalspy.com
Samantha Mathis: Early Life, Education, and Career
Samantha Mathis was born on the 12th of May, in 1970. The Brooklyn, New York-born child was raised for the most part by her mother Bibi Besch. Mathis did not have the easiest of childhoods as her parents decided to split up when she was only 2. Her mother was later handed the custody to raise her while her father had to pay the child support fee.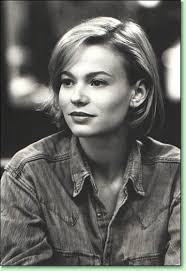 Caption: A Young Samantha Mathis.
Source: digitalspy.com
Growing up, Samantha, for the most part, was spending time with her mother. Her mother Bibi Besch was a theatre actress and this turned out to be a massive factor to influence Samantha's career. Mathis then got started with some of her first on-screen roles at just 12. She was also getting small parts in commercials for baby products with her mother. She was first seen on TV when she was only 6 months old and she made her appearance with her mother in a commercial for 'Final Touch'.
As of 2018, Mathis has over 40 movies to her name; it includes the likes of TV shows, movies, short-films. But to go right to the start, her big break came in the year 1990, when she was cast for the movie 'Pump Up the Volume'. She began her career a long time before this movie, but a lot of credit to her recent success goes down to the 1990 comedy-drama movie.
Mathis over the years has been recognized for her work, not as much as she deserves, but nevertheless Hollywood has acknowledged her talent. Samantha was nominated for the Best Young Actress in 1992 for her portrayal in the movie 'This is My Life'. After over a decade, Samantha for her role in 'Salem's Lot', was nominated for Best Supporting Actress on TV.
Samantha Mathis: Personal Life
Samantha has not had the easiest life; from right from the start when her parents split up to the 1993 incident when she lost her boyfriend, she has always had to endure a lot of pain. Samantha was in a relationship with her long-term boyfriend River Pheonix before he died in 1993 at the age of 23. Pheonix was a singer and an actor who tragically lost his life because of a drug overdose. This happened to him at Viper Room in the presence of Mathis and his siblings and was a sad affair.
Caption: Samantha and Christian Bale.
Source: pinterest.com
More recently, Mathis had been in a relationship with the filmmaker Colin Hanks and that was in the year 2009. Anything newer than that has not surfaced and there have only been speculations. After the death of her long-term boyfriend, she took a brief break from dating. Later she got back into the dating arena and was seen in relationships with famous names like Christian Slater, Noah Wyle, Christian Bale, and John Leguizamo.
Samantha Mathis: Net Worth
Samantha is a successful name in the Hollywood industry; she has constantly been getting respectable roles in movies and TV shows. As of 2018, her net worth is in a range of $4 million. She has been able to garner herself an immense fame with an equally large fortune in her illustrious career.
Mathis is also a pretty active member of the social media community. She is more active on her Twitter account where she goes by the handle @samanthamathis; Mathis has over 3.5k followers on the platform.