Tahj Dayton Mowry was born on May 17, 1986, in Honolulu, Hawaii. He is of dual ethnicity with his mother being of Afro-Bahamian descent and father having English ancestry. He is 32 years old and zodiac sign is Taurus.
Mowry attended elementary school at Belby Way in West Hills, California and high school at Westlake, Thousand Oaks, California where he was involved in a football team. He continued playing football in his college days also played for a season at both Savannah State University and the University of Wyoming. Finally attended Pepperdine University in Malibu, California together with his twin sisters.
Tahj Mowry Career
Besides being a brother to his famous twin sisters (Tia and Tamera Mowry), Tahj himself has become a famous actor. Like Ty Simpkins, Tahj also got involved in the acting field from a very young age, amusing right? Got first acting job at the age of 4, as a guest star on the hit sitcom "Who's the Boss?" next he did the role of Teddy on "Full House" where he appeared in 14 episodes. Tahn then took is filmography to the next level by appearing as guests in many other sitcoms. He also had voice roles and got first ever main small screen role in Disney's Smart Guy Portraying T.J. Henderson. Adding to this Mowry then feature in Seventeen Again(2000) and started voicing the character Wade Load in Kim Possible series.
Tahj's next main role came in 2012 as Tucker Dobbs on Baby Daddy. For this role, he was nominated twice for Teen Choice Award for Scene Stealer: Male. Tahj furthermore, released his debut single, Flirt in April 2015 and was succeeded by a six-song EP released in August 2015. Besides acting he is also engaged in dancing and singing.
Tahj Mowry Net worth
Tahj Mowry has been able to earn a lot of fame for himself in the entertainment industry, his net worth is about $1.5 Million. He gave people magazine a tour of this crib in July 2017. As like most other actors, his standard of living is pretty luxurious.
 Tahj Mowry Gay, relationship
So coming to the sexuality of Tahj Mowry, he is NOT gay. As there was a rumor of Tahj being gay because he liked a photo of a gay bodybuilder. There was also the publication declaring the rumor. The headline read "Tia and Tamera's Brother Tahj Mowry is Gay. He got caught on Instagram Lusting over a Gay Man". Going through some tabloid sites we came to know that Mowry had dated some really stunning women; Allen from 2003 to 2007. And recently in the relationship with Erica Campo. Unfortunately, they broke up for reasons unknown to media.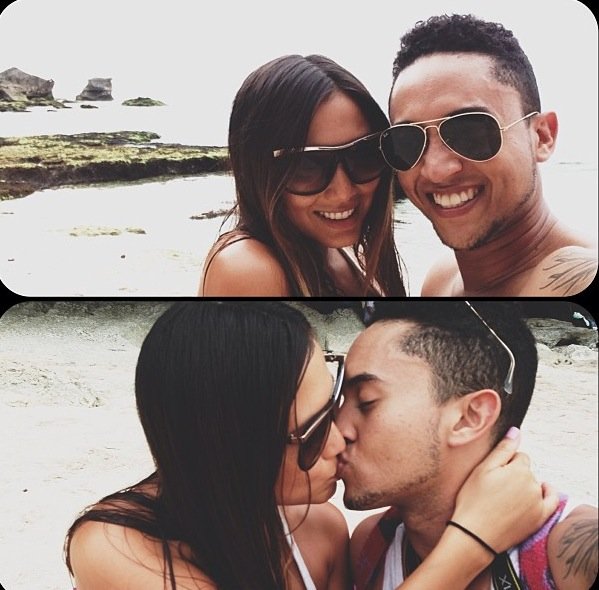 Caption: A picture of Tahj Mowry with his ex-girlfriend Erica Campo
Source: bossip.com