Trevor Noah is an actor, comedian, writer, TV host, and political commentator from South Africa. Noah is best known for hosting Comedy Central's 'The Daily Show'. He has been involved with the show since September 2015. Trevor is an extremely gifted artist and humor is something that comes naturally to him. So, he has been hosting and creating countless shows to date.  Trevor was even among Time Magazine's '100 most influential people' in 2018.
Noah is also a polyglot, speaking languages like English, Zulu, Xhosa, Sotho, Tsonga, French, German, and many others too. Noah rose to the scene with his show 'Tonight with Trevor Noah' and was even a runner-up on the fourth season of the reality dance competition show 'Strictly Come Dancing'. Let us now get to know more about this versatile personality.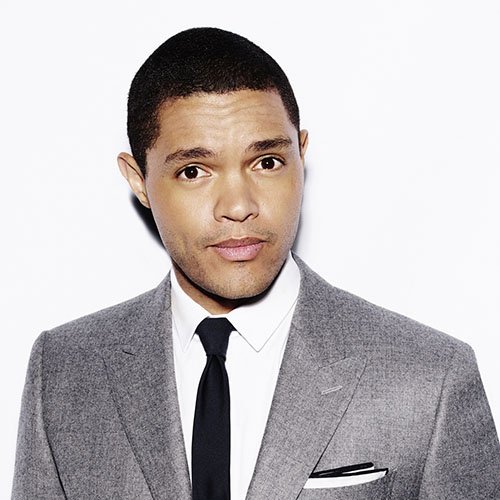 Caption: The South African comedian Trevor Noah.
Source: trevornoah.com
Trevor Noah: Early Life
Trevor Noah was born on 20 February 1984 in Johannesburg, South Africa to parents Robert and mother Patricia. Ethnically Trevor's father is white and his mother black. According to the South African laws during apartheid, Trevor's birth was an illegal affair. He was born 10 years prior to the end of the apartheid and in reference to his birth, he says "I was born a crime". When Noah was little, his mother used to walk ahead of him, pretending not to know him when she saw police and this made him feel like a 'bag of weed'. This comedian has turned his mixed-race heritage and all the difficulties growing up into a comedy routine which in itself is a feat.
He also has two stepbrothers, Andrew, and Isaac from his mother's second marriage to Ngisaveni Abel Shingange. Noah's stepfather used to physically abuse him and his mother. Patricia later divorced her abusive husband.
Trevor Noah: Career
Trevor began his career with a cameo role on the SABC3 soapie Isidingo, in 2002. After his stint on the show, Noah spent two more years, this time hosting an educational show on the same channel. Later he went on to host his own radio show on Yfm called Noah's Ark. Since then, Noah has been very involved in the South African comedic scenery. He also has been performing at various comedy festivals and also has few stand-ups to his name.
Caption: Noah with Fallon at the gala.
Source: instagram.com
In 2010, Trevor began hosting his own talk show for the broadcaster M-Net. His show 'Tonight with Trevor Noah' was based on other talk shows like "The Daily Show with Jon Stewart" and the "Late Show with Conan O'Brien".  His show earned him huge applauds and he even went on to be a successor to Jon Stewart as the host of The Daily Show. Replacing Stewart was no easy feat but Noah with his ways is winning the hearts of many and is still set to fill in the void that Stewart had left behind.
Noah soon landed himself with probably one of the hottest jobs on TV. He was appointed as the successor to Jon Stewart. There were certain reservations from the American audience who felt he might not be quite ready or even up to the task. But if he was chosen, there was possibly a good amount of thinking that went into hiring him.
Trevor Noah: Personal Life and Achievements
Trevor remains a beloved figure in the world of entertainment and his work is appreciated and loved by many. For his hard work, Noah has achieved several recognitions. In 2015, he was presented with an MTV Africa Music Award for Personality of the Year. He then received "NAACP Image Award for Outstanding Literary Work" – biography for his book "Born a Crime" in 2017. Later in the same year, he was rewarded with MTV Movie and TV Award for Best Host in The Daily Show.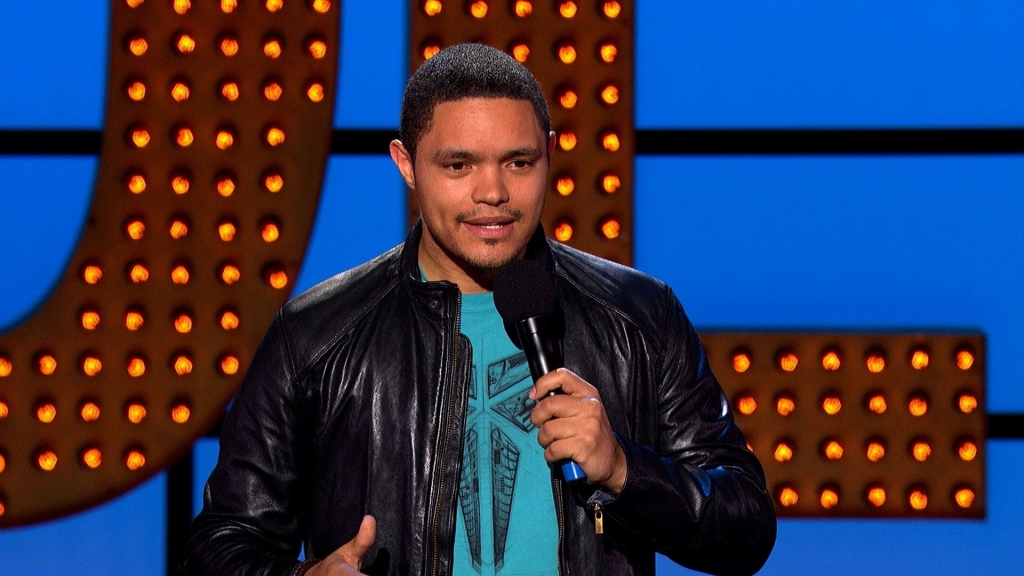 Caption: Noah on one of his stand-up routines.
Source: youtube.com
Moving towards his love life, there have been rumors that Noah is a gay man. However, Trevor has dated a lot of women and contrary to gossips, he definitely is not gay. It is our understanding that he has a girlfriend named Jordyn Taylor. Taylor is a singer who performs in the States and is quite famous. Before Jordyn, Noah had been dating Dani Bagel who is also a singer. So, by the looks of it, he prefers his partner to have a good voice; which is still a better theory than him being gay.
Trevor Noah: Net Worth
Since his rise to stardom, Trevor Noah has made a lot of money and it is not surprising with the talent he has to offer. His net worth is estimated at $13 million which he has accumulated from his comedic routines and other endeavors. Noah reportedly makes $4 million as his annual salary and seems to be living a well-off life.
Trevor Noah has had a remarkable story of success and has reportedly sold more DVDs than any stand-up in the world. People follow him and his work oh every platform imaginable including his social pages on Facebook, Twitter, and Instagram.