Wendy Schaal is one of the most iconic stars in Hollywood who has viewers from all across the globe. Schaal has been in the industry since 1976 and has come a long way since then. She is famous for her lead roles in the TV series "Fantasy Island" and "It's a Living", both alongside Barbi Benton.
Today Wendy Schaal is one of the most popular celebrities of our time. In recent years, she has also been working for the ever so famous animated sitcom American Dad! Let us now get to know a bit more about this veteran American actress.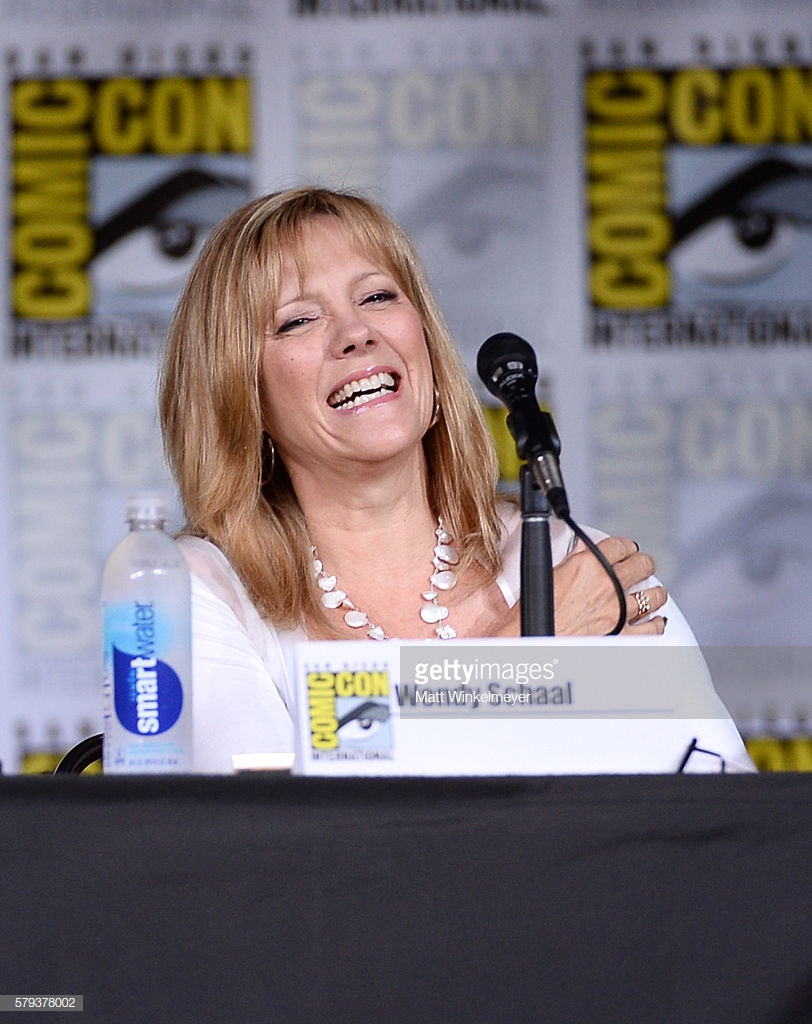 Caption: Wendy Schaal attends the "American Dad" panel during Comic-Con International 2016 at the San Diego Convention Center in 2016.
Source: gettyimages.com
Wendy Schaal: Early Life and Education
Wendy Schaal was born in the 2nd of July, 1954, in Chicago, Illinois. She was born to father Richard Schaal, who was also an actor and mother Lois who was a homemaker. Wendy's father was best known for his skills in the sketch and improvisational comedy and was regarded as one of the best in the business. He also made appearances in many sitcoms from the 70s, one being "The Mary Tyler Moore Show". The veteran actor sadly passed away on the 4th of November, 2014 when he was 86.
Caption: A younger Wendy Schaal.
Source: gettyimages.com
Now looking at her academics, Wendy went on to attend the Los Angeles City College, Los Angeles, California. She graduated from this reputed institution in 1976. She has also gone on to take various courses in theatre acting.
Wendy Schaal: Career
Wendy Schaal is a very experienced actress and has been in the industry for many decades now. Her big break came in the form of the movie "Bound for Glory". Her portrayal was able to win applauds from the writers and critics alike and it then paved way for more amazing roles. In 1980, Schaal went on to portray the character Vicki Allen in the TV series "It's a living" which goes down to be one of, if not her biggest roles till date.
Caption: Stan Ivar and Wendy Schaal in Creature (1985).
Source: imdb.com
She was then landing for TV roles and securing her place in names such as "Northern Exposure", "Six Feet Under", "Fantasy Island" and "Night Court." You might also be able to remember her from roles in movies like "Munchies" and "My Girl 2." In more recent years, she has also given voice to the famous animated character Francine Smith in the sitcom "American Dad!" Apart from her roles in TV, she has also been working hand in hand with a non-governmental environmental organization called Greenpeace.
Wendy Schaal: Personal Life
Now coming to the personal life of Schaal, she is a married woman and has been together with her husband Stephen M. Schwartz. The two said their vows way back in 1977 when Wendy was only 23. However, their relationship came to an abrupt end after being together for over a decade.
Caption: Wendy and her ex-husband Stephen M. Schwartz.
Despite the failure of her marriage, Wendy does have two children with her ex-husband- Adam and Victor. It has also been ages since they decided to go their separate ways but Wendy has not shown any interest in dating. She is a busy woman who is still focusing on her career and her children.
Wendy Schaal: Net Worth
Wendy has been in the industry for many decades now. During these years she has grown a lot as an actress and a person. This has helped her gain a substantial earning which is more than enough to take care of herself and her children. As of 2018, Schaal has a net worth of $400 thousand and the figures keep rising as she keeps landing new amazing roles.
Schaal is a brave, brave woman who is far from a quitter. She has achieved quite a lot in her distinguished career but keeps going none the less and we wish her all the best for her future.