A lot of people know Catherine Paiz and her family through a YouTube channel called 'The ACE Family'. The youtube channel uploads their family vlogs, pranks, challenges, and other entertaining videos and its very popular among the young generation. 'The ACE Family' features the lifestyle of mainly four people namely: 'Austin McBroom', partner of Catherine Paiz, who is also a basketball player,  'Catherine Paiz' her self and their two daughters, 'Elle' and 'Alaia'. 'The ACE family' makes their life look so interesting on-screen that, anybody who watches their vlogs will say "they are made for the camera". The YouTube channel 'The ACE Family' is very popular, liked and successful among the viewers and they have almost 18 million subscribers.
Additionally, Catherine Paiz is an American actress and model. She played in movies like 'You Can't Have It' in 2017, 'Lilin's Brood' in 2016 and 'Monday Nights at Seven' in 2016. The 29 years old Youtube personality was born on 24 August 1990 in Montreal, Canada. Paiz represents Panamanian ethnicity.
Caption: Catherine Paiz
Source: Youtube
Catherine Paiz: Early Life, Education, and Family
The Youtuber is named after her mother's foster mother and her full name is 'Dolores Catherine Johnston Paiz'.   Her parents are Panamanian. Paiz has two siblings a younger brother and a younger sister. During her youth, she resided in Montreal, but then she started living with her mother in Florida. Paiz never uses the name 'Dolores' and this is mainly due to the influence of her mother. Paiz's dad had a promise made to Paiz's mother's foster mother impulsively that after her, they should name her 'Dolores'. The model's mom didn't like the idea of naming 'Dolores' to their daughter, but Paiz's dad had to keep his vow. Paiz's mother did not object but she insisted on using her middle name to address Paiz.
Caption: Catherine Paiz's childhood
Source: Youtube
Paiz was interested in sports like soccer, hockey, and volleyball when she was in school. She represented her high school with a sports team a lot of times. She enrolled herself in St. Louis University after finishing high school education. Besides sports, Paiz also had an interest in modeling and she started her career as a model when she was only 16. She has also worked with Victoria's Secret as a model. In 2013, Paiz went on to model for 'Azzelia Swimwear'. In addition, Paiz also at an ice cream parlor for a short period of time. Similarly, Paiz also worked as a VIP manager at 'Arkadia Miami'.
Catherine Paiz: Career and achievements
While working as a model, Paiz posted her pictures on her social media accounts, mainly Instagram. Gradually, Paiz started gaining attention because of her sizzling hot pictures and soon, she started getting offers to act in movies. The model has worked as an actress for both small-screen and big-screen productions. In 2016, the actress appeared in a thriller film 'Lilin's Brood', directed by 'Artie Smith' and 'P.W. Simon'. The movie starred 'Martin Sensmeier', 'Melinda Milton', and 'Maxine Goynes'. The same year, the actress appeared in a small role in the romantic family drama movie, 'Monday Night at Seven',  which was written and directed by 'Marty Sader'.
Similarly, she starred in a 2017 thriller movie called 'You Can't Have It' directed by 'Andre Gordon'. The movie's cast includes 'Matthew Pohlkamp', 'Armand Assante', and 'Joanna Krupa'. Likewise, the actress also worked as a television host. With time she and her partner's pictures and posts began attracting a lot of popularity and raised her fame as an Instagram star.
Accordingly, the couple's rising popularity on Instagram made Catherine and Austin launch their family YouTube channel, 'The ACE Family'.  The channel was launched on 10 January 2016. The channel was named after the initial letters of all three family members, namely A from Austin, C from Catherine and E from Elle(the couple's unborn child). The couple posts vlogs, pranks, fun family times, challenges, and crazy experiences on their channel. Their channel has likewise uploaded official music videos like, 'THE ACE FAMILY – YOU'RE MY ACE' and 'GIDDY UP', which became very popular among viewers.
Catherine Paiz: Personal life and Boyfriend
There are some rumors about Catherine Paiz on getting a nose job but Paiz herself has not accepted it to be true. However, Paiz did revel about her breast augmentation procedure in 2010 through an Instagram post in November 2013.
Talking about her relationship status, the 30-year-old Instagram model is in a relationship with Austin McBroom. Austin McBroom is a former basketball player of the 'National Collegiate Athletic Association' (NCAA). Both Austin and Catherine attended 'St. Louis University', and met during a party in 2015. Shortly, the couple started dating and Catherine even got pregnant unexpectedly. After Catherine's pregnancy, two of them decided to start a family officially. Paiz gave birth to their first child, a baby girl 'Elle Lively McBroom' on 28 May 2016. The same year in August Paiz engaged with her child's father, 'Austin Mc broom'.
The family announced about Catherine's second pregnancy on 6 February 2018, through the video 'MOMMY AND DAUGHTER SURPRISE DADDY WITH PREGNANCY ANNOUNCEMENT!!! (SPEECHLESS)'. For the gender revel, one of the couple's close friends, 'Kylie Jenner' participated.  The couple's second daughter, 'Alaia Marie McBroom', was born in October 2018. Additionally, the couple is ready to have another baby boy soon.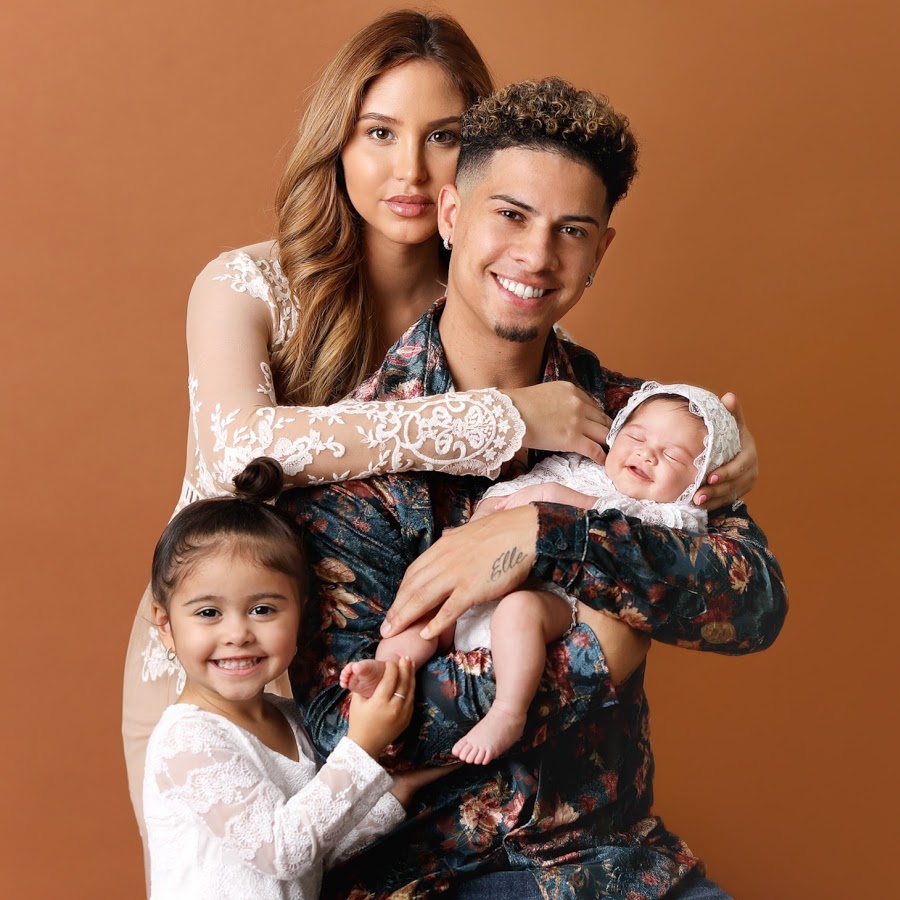 Caption: Catherine Paiz's family
Source: Youtube
Catherine Paiz: Net worth and social media
The estimated net worth of the youtube channel 'ACE family' is $13 Million. Paiz alone has a total net worth of  $750 Thousand. The main source of income is Youtube advertisements, views, modeling and marketing. Paiz and her partner love to consider their fans and well-wishers. The couple is available on Instagram separately with the user name, 'catherinemcbroom' and 'austinmcbroom'. You can also find their daughters by the name, 'elle' and 'alaiamcbroom'.
Paiz has 7.6 million followers on her Instagram account. She likes to post about her lifestyle, fashion, family, and friends on Instagram. The model is also available on Twitter with the user name 'Catherinepaiz' with 1.69 million followers.
Catherine Paiz: Body measurements
Paiz is a drop-dead gorgeous with an amazingly beautiful body. The model stands 1.70 meters tall and weighs 54kgs. She has hazel eyes and brown hair color. Her body measurements are 36-25-35.
Caption: Catherine Paiz's body measurements
Source: Youtube
Also read about Ivanita Lomeli, Leena Xu , Steve Harvey, Cam Newton