Chester Bennington, the 'Numb' vocalist was one of 2000's top rock musicians. The American singer, musician, songwriter, and actor was the lead vocalist for the popular band 'Linkin Park'.
Apart from that, we also know him by his other bands Dead by Sunrise, Grey Daze, and Stone Temple Pilots. As a youngster, Chester has always wished to be a part of Stone Temple Pilots.
Chester Bennington- Early Life
Chester was born Chester Charles Bennington on the 20th of March 1976. His birth and most of his childhood memories took place in Phoenix, Arizona, United States. Chester spent until he was 17, with his father and then his mother took the custody.
As simple as it seems to know that someone has achieved everything by the age of 40, it is just the other way round. Chester had a rough childhood considering many things. He was abused sexually by his senior friend from the age of 7 till 13. His family involved a police detective father in child sexual abuse and his mother a nurse. What a pity! he could never share, they never understood until he spoke to his father one day.
Secondly, Chester used to be bullied in his school for how he looked and all. Thirdly, his parents got divorced when he was only 11. All these incidents one after another or occurring at the same time would make him feel like killing them all.
As a teenager, Chester eventually formed marijuana and drug habit. Thus, soon as he moved to live with his mother, she even grounded him. But thanks to Chester's creativity and hobbies, he found a better way to relieve his frustration into poetry and painting gradually gaining control over addiction.
Chester Bennington- Career
Chester began his career as a singer when he was 15. It was the band Sean Dowdell and His Friends. A year after that, Chester and Dowdell collectively formed Grey Daze to which Chester remained the lead singer. Chester had a hard time leaving Grey Daze and joining Linkin Park. Nevertheless, this decision turned out to be his best decision.
With the band's co-vocalist Mike Shinoda, Bennington has written and sung popular rock-rap music namely Hybrid Theory (2000), Meteora (2003), Minutes to midnight (2007), and One More Light Live (2017).
In spite of his lead in Linkin Park, Bennington co-founded Dead by Sunrise, also replaced  Scott Weiland to be the lead singer in Stone Temple Pilots, his youth fantasy. Apart from fro music, Chester has appeared in movies such as Crank: High Voltage (2009) and Saw VII (2010).
Chester Bennington- Family, Spouse, Children
When he died, Chester was married to Talinda Ann Bentley who has been a former 'Playboy' model. The duo married in 2005 and shared three children together- Tyler Lee Bennington and twins Lilly and Lila.
Before Talinda, Chester had been divorced from his 9 years long marriage with Samantha Marie Olit earlier in 2005. With Samantha, Chester has a son Draven Sebastian.
Additionally, Bennington has two boys-Jaime and Isaiah from his girlfriend Elka Brand.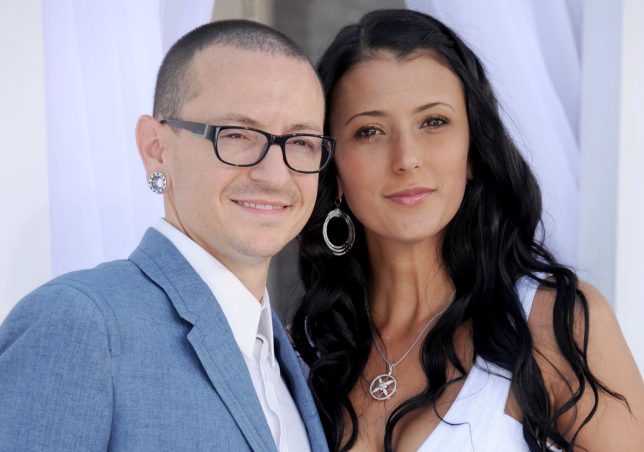 Caption: Late Chester Bennington and his wife Talinda Ann Bentley
Source: metro.co.uk
Chester Bennington- Height and Net Worth
The frontman of America's top musical band was as tall as 178 centimeters. His net worth from his singing, writing, music, and acting career averages to some $30 million.
Chester Bennington- Death And Aftermath
Bennington's close friend, Chris Cornell who had hung himself to death two months back prior to his death. Chester had committed suicide by hanging himself on July 20, 2017. His body was discovered by his housekeeper around 9:00 a.m. at his home in Palos Verdes Estates, California. The news has been confirmed by his band member, Mike Shindo on Twitter. The autopsy report confirmed that he has taken alcohol before his death.
After his death, his wife's account was hacked and posted that she married the singer for money. Further, also posted that she was cheating her husband with Mike Shinoda. However, the post was deleted soon after they were posted. But it was also true that the singer had some health issues, meantime no one has imagined that it may be led to death.
Chester's body was cremated at South Coast Botanic Garden in Palos Verdes, California with a full stage for musical tributes. Also, there was news that his fan named Lee Randall, 36 years old lad committed suicide.
The heart-touching voice left us all 'NUMB' forever.
Read about the singers like Katy Perry, Adele, Lady Gaga, ASAP(Rocky)