Germán Garmendia, better known by an online alias HolaSoyGerman and  JuegaGerman, under which he has created YouTube channels. Further, he is a Chilean YouTube personality, singer-songwriter, comedian, and writer. He has over 90 million subscribers with a combination of his channels. He had been in a few controversies including his explanation video in 2018 clarifying about the accusation of taking drugs to make his videos.
Moreover, he has also formed a band called Ancud in 2015 along with his brother and guitarist Diego. Additionally, In 2015, The Washington Post ranked the YouTuber listed in the second-ranking, trailing the Swedish YouTuber PewDiePie in the earning rankings. The list also included fellow YouTubers like Jenna Marbles, Niga Higa, and Smosh.
Caption: The YouTube personality, German Garmendia.
Source: YouTube
Germán Garmendia: Bio, Family, Career
He was born on 25 April 1990 as Germán Alejandro Garmendia Aranis in Copiapó, Chile. In 1993, at the age of three, his father, Germán Luis Garmendia Macías died in a car crash on Christmas Eve. After that, his mother and brother traveled to various places before settling in the coastal city Los Vilos, north of Santiago.
From a young age, he was very interested in music from a young age. Following his interest, he formed a band called Zudex with his brother Diego and friends at the age of 13, uploading videos of his band in 2006. At the time, he had not started his YouTube channels. He created his personal YouTube channel "HolaSoyGerman" on 9 September 2011 with 42.7 million subscribers and over 4.5 billion views.
He has also created his secondary channel under the name "JuegaGerman" on 19 May 2013 where he uploads Gameplays and other types of videos including video reactions. It seems that he has created a third YouTube channel under his name on 17 April 2010 with 1.35 million subscribers and over 19 million views. He further won the "Icon of the Year" prize from MTV Millennial Awards in August 2014. Before that, he made his first appearance in a YouTube Rewind in 2013 and then again in YouTube Rewind 2014.
Germán Garmendia: Personal Life & Girlfriend
Speaking of the Youtuber's personal life, he is not single at the moment or married yet. Since 2016, he has been dating an American television personality and singer named Lenay Olsen. The American TV personality was born on 25 October 1985 in Congo, Africa, recognized for an appearance on MTV's '10 on Top'.
Moreover, Lenay previously dated singer Jason Dunn and exchanged vows in 2014. However, their relationship didn't last, and divorced after two years in 2016. On the other hand, he has not shared details on his past relationships. However, in 2017, they moved together to Los Angeles and currently sharing a good understanding with each other.
He has been in a few controversies and scandals including in 2013 when a fellow YouTuber 'YoLordestructor' uploaded a video claiming that he had used bots. However, he responded to his controversial video but later it was deleted. Following that in 2014, he had scheduled to appear in the Telmex Digital Village event where the unplanned excess of people attended. Next, the YouTuber fainted due to heat after which the crowd became unruly and forcing them to pass the barriers in which light elements fell into the crowd and experience injuries. Later, German did express his sorry to the crowd.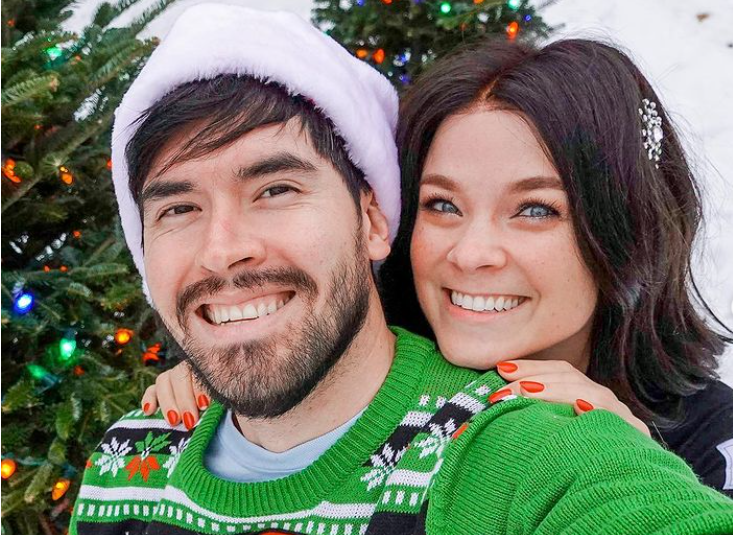 Caption: German Garmendia and Lenay Oslen.
Source: Instagram
Germán Garmendia: Net Worth & Social Media Profiles
According to sources, YouTube channels may earn anywhere between $3 to $7 per one thousand video views. From the given data, Germán has three YouTube channels which have over 90 million combined predicted to generate over $98.22 thousand in ad revenue a month and $1.47 million a year. Therefore, he has a net worth estimated at over $4 million from his vlogging career.
He is highly active over different social media platforms with verified accounts. On Instagram, he has an account @germangarmendia with 13.1 million followers. He goes by the Twitter account @GermanGarmendia with 11.7 million followers. Also, he has a Facebook account under his name having 20 million followers.
Germán Garmendia: Body Measurements
He has a strong and muscular body that stands to a height of 6 feet 0 inches or 1.83 meters. His body weighs around 75 kg with unknown body measurements of chest and waist. He has black hair and dark brown eyes color.