How often do we talk about sportscasters and journalists in here? Today we have someone who is involved in similar fields but is famous for her own uniqueness. Let us just end the curiosity and start talking about Jaymee Sire who is an amazing television personality who came to fame for her work on ESPN. Like Wendi Nix, Sire has also made several appearances on the NFL Life, College Football Live, and NFL Insiders whilst working for ESPN.
Jaymee is also a vivid food enthusiast who has her own blog called "E is for Eat." Seriously this girl is extremely versatile to the extent you start wondering if there is anything she can't do. She is also quite a professional and has spent several years at SportsNet Central as a reporter. Let us now get to know more about this beautiful talent.
Jaymee Sire: Early Life and Education
Jaymee Sire was born on the 25th of August, 1980, at the Great Falls, Montana. She was born to a family with an agricultural background with parents Dennis and Wendy. Very little is known about Sire's siblings and her early childhood. However, we have come to know that her parents have always been proud of her and supportive of her life choices.
For her education, Jaymee went to Washington State University. While studying at the institution, Sire served as a reporter and news anchor for Washington State University's Cable 8. She also served as a member of Kappa Delta sorority where she was the president for the years 2000 and 2001.
Jaymee Sire: Career
After starting out in her alma mater, Jaymee then went on to work as a sports news anchor and reporter at KRTV in 2002. She did spend a few years at the news station before finally moving on to KFMB-TV sometime around 2007 and worked with the network for the next 5 years.
Next, Sire began working for Comcast SportsNet Bay Area as an anchor. Whilst working for the channel she covered a lot of games of the Golden State Warriors and San Jose Sharks. Sire then joined ESPN in 2013 and worked as an anchor for the show 'Highlight Express'. On the 5th of May, 2013, she made her official debut for SportsCenter which earned her huge praise from the sporting community.
Later Jaymee left the big network ESPN to appear as a judge on the 13th season of "Food Network Star". She also took the same role for a different show called "Beat Bobby Flay". Next, in 2017, there have been announcements stating that she will be coming to the show "Iron Chef Showdown."
Jaymee Sire: Personal Life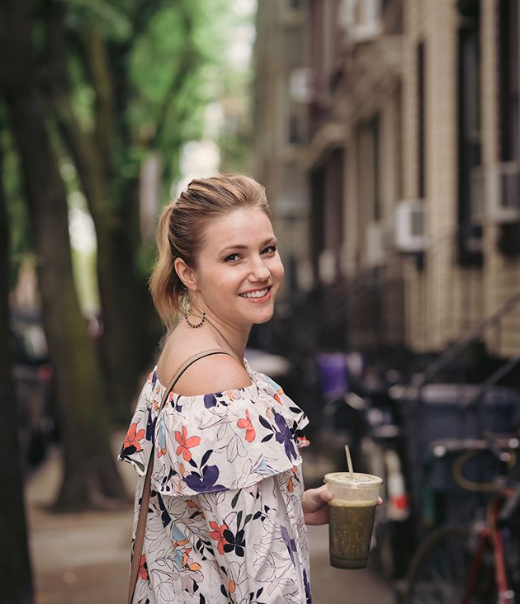 Caption: "Green smoothie for lunch, fried chicken for dinner. It's all about balance, right? 😬🤷🏼‍♀️ 📷: @jaharoni"
Source: instagram.com
Jaymee is an extremely private person who likes to share her personal life as little as possible. Despite her profession as a journalist, she prefers to stay away from the unwanted attention from the media. However, we have come to understand that she is in a relationship with Justin Aharoni, who seems to be a photographer.
Jaymee is someone who just loves to travel and explore new places. She is also a self-proclaimed foodie and loves continental food. Because of her love for food, she even has her own food blog and even has a sandwich named after her. Follow her adventures alongside Justin at #exploringwithjandj.
Jaymee Sire: Net Worth, Awards, and Social Media
For the work that she does, Sire has been admired by many and has won three nominations for the Emmy Awards. She ended up winning the SAN Francisco Emmy Award for All A's: A's which was aired on the CSN Network. She has also been in this industry for a long time now and has managed to gain substantial income. According to various sources, Sire has a net worth of just above $1.5 million. She has been earning for her roles as a journalist, sportscaster and judge for reality shows. Jaymee even makes a good deal from her blogs and endorsements on social media.
Sire can also be found on social networking platforms like Twitter and Instagram. This beautiful and happy being has a huge number of fan following on these platforms. She likes to engage with her fans and post a lot of food pictures.