Juanita Vanhoy is a famous American personality and a celebrity. She is also a former model but is still famous as the ex-wife of the famous NBA superstar, Michael Jordan. Juanita has been involved with numerous projects throughout the years and has had a pretty successful run at them.
Vanhoy is a mother of three and is considered to be one of the most down-to-earth celebrity wives/ex-wives. She is an introvert by nature and is not someone who seeks attention of the media. It is even hard to find her active on social media as she is someone who likes to give more time to her family. Let us now get to learn more about her life.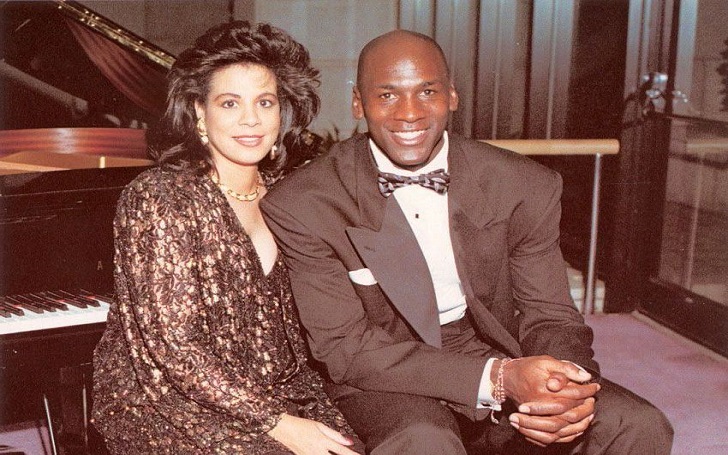 Caption: Juanita and Jordan at their mansion.
Source: hitberry.com
Juanita Vanhoy: Early Life, Education and, Career
Juanita Vanhoy was born on 13th June, 1959 in Chicago, America and is of American nationality. She grew up in the South of Chicago and worked as a fashion model from her early life.
Caption: Michael and Juanita at the Chicago Bulls press conference.
Source: ituberbosa.blogspot.com
Juanita joined the modeling world at an early age of 13. She modeled for several projects and became quite successful before joining the American Bar Association where she was the executive secretary. She then captured headlines when she got into a relationship with the famous basketball player Michael Jordan. Vanhoy and her ex-husband Jordan founded the Michael and Juanita Jordan Endowment Fund, an organization that worked for the charity. She also put her hands in the real estate business and found quite a good amount of fortune.
Juanita Vanhoy: Personal Life
Vanhoy, age 59 is now a single mother of three children. Juanita is currently not in any affairs or relationships since divorcing from Jordan. Juanita first met Jordan in 1984, at a Chicago Bennigan's restaurant. After a few weeks, she again met him at a friend's party. The two of them then started dating and Michael finally proposed to Juanita at Nick's Fish Market, Chicago.
Caption: Juanita Vanhoy speaks about Parenting.
Source: youtube.com
They decided to get married on September 2, 1989, after Juanita became pregnant with Michael's child, having been engaged for over a year,  They got married in Las Vegas, but in the presence of their son Jeffrey Michael Jordan who was already 10 months old. Vanhoy after marriage went on to have two more kids Marcus Jordan and Jasmine Jordan.
Their marriage did not last long when Juanita filed for divorce citing irreconcilable differences in 2002. However, the couple shortly reconciled after she withdrew the divorce petition but Vanhoy again filed for divorce which got finalized on December 29, 2006.
Juanita Vanhoy: Net Worth
Caption: The Jordan Estate (Vanhoy's mansion when she was married to Jordan)
Source:  forbes.com
Vanhoy is not a woman in a shortage of wealth. She made a good amount of fortune with her modeling career and the real estate business but all these do not come anywhere near the sum she received for her divorce settlement. Vanhoy also received a whopping $168 million, which was the largest divorce settlement of the time.
Click to know about the famous NBA sportscaster Rachel Demita.