Kayla Quick is mostly known as a new girlfriend of retired American football player 'Michael Strahan'. Everyone's eager to know more about the Michael Strahan's new love. Since she is not a celebrity and there is very little information on her, we are here to share you some interesting facts about the celebrity girlfriend.
Caption: Quick enjoying her vacation in the waters.
Source: everipedia.org
Kayla Quick: Early Life and Education
The blonde was born as Kayla Lynn Quick on October 17, 1989, in Port Charlotte, Florida. She took a step into this world as a daughter to Gerald Alan Quick, her father and Mary Kay Quick, her mother. Her father was originally from Missouri but served as the U.S Army while her mother is a cancer survivor, she also has a sister names Kara Lee Quick who works as a chef and a model in Florida. Kayla has American nationality and she belongs to the white ethnicity. According to the record, Quick attended high school and graduated college as well but there is no information about the name of the institutions or the degrees she obtained.
Caption: Mugshot of the famous Kayla Lynn in her early years.
Source: dailymail.co.uk
Kayla Quick: Family History
There isn't any detailed information regarding Kayla's childhood but there is some spicy history/background of her and her family. Kayla was arrested twice in her teen days. Once while she was 14, she got into a fight in her hometown of Port Charlotte, Florida. The next time she got arrested was when she was 18, she broke into her own grandmother's home and stole jewelry worth $600. Mrs. Margaret Cox, her grandmother was informed about the robbery through her neighbors, she was told that her 18-year-old grand-daughter was seen breaking into her home and hanging out with her high school sweetheart, Justin Hundley and then right after Kayla's grandmother got her arrested.
Later, Justin describes Kayla in an interview as "good girl gone bad". He said that it was like a switch was flipped and she changed all of a sudden. Kayla did work at a strip club named "Thee Doll House " in Tampa, Florida for about four months. According to reports, she previously was working as a cocktail waitress but not as a stripper. Sources tell us that she had her own way which had a great effect on men. Her tricks could "hustle customers" in such a way that she "could clear up to $2,000 a week.'
By the looks of things, her family has a history of committing crimes and getting arrested for it. Gerald Alan Quick was arrested for more than 20 times for different crimes, also Kara Lee Quick, her sister was arrested in December 2008 for possession of controlled substances Xanax and Stilnox.
Kayla Quick: Relationship
We haven't got any information regarding Kayla's past relationships. However, currently Quick and Michael Strahan have been spotted in many places with their PDA (Public Display of Affection). The two were in full swing that leaves us with the question as to who Kayla was and when did it happen. It is said that their relationship began sometime in 2015 as they both were seen together at the 2015 Super Bowl after party.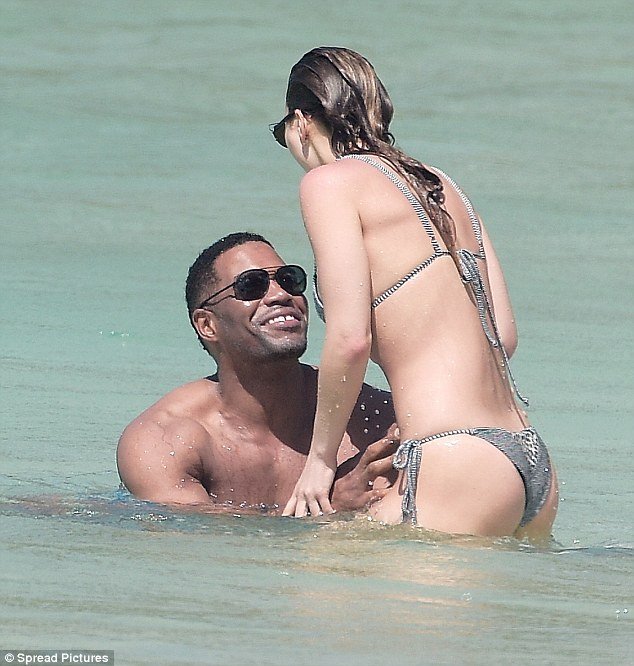 Caption: Michael Strahan and Kayla Quick enjoying their time in the waters.
Source: dailymail.co.uk
Kayla and her beau seem to be taking things subtle at the moment. Michael himself also has a history of relationship as Kayla is not the first woman in Strahan's life. Michael is a father of four and has attempted to marry thrice but only succeeded twice, with both ending up in a divorce. Therefore, Kayla has still a lot of things to do to keep Mr. Michael to stay hers for longer. Nonetheless, the lovebirds seem to be spending their time over romantic dinners, steamy vacations, etc.