For many years now, calories have been the true enemy for people wanting to lose weights. It is, however, not as easy as letting go of a few calories and it evidently is not very sustainable. Whilst the goal is to lose weight, you can't just keep avoiding nutritious intakes. Moreover, we like to make the whole eating experience to satisfy our pallets and people have a misconception that it cannot be nutritious and tasty at the same time.
25 Best Healthy Snacks for Weight Loss: Healthy but a Tasty Diet
Today, we have a few simple swaps for you that as the title suggests can make weight loss seem effortless for you. Just follow some of these steps, and voila, see the drastic change in your health and fitness.
1. Swap Burger Buns for Lettuce Wrappers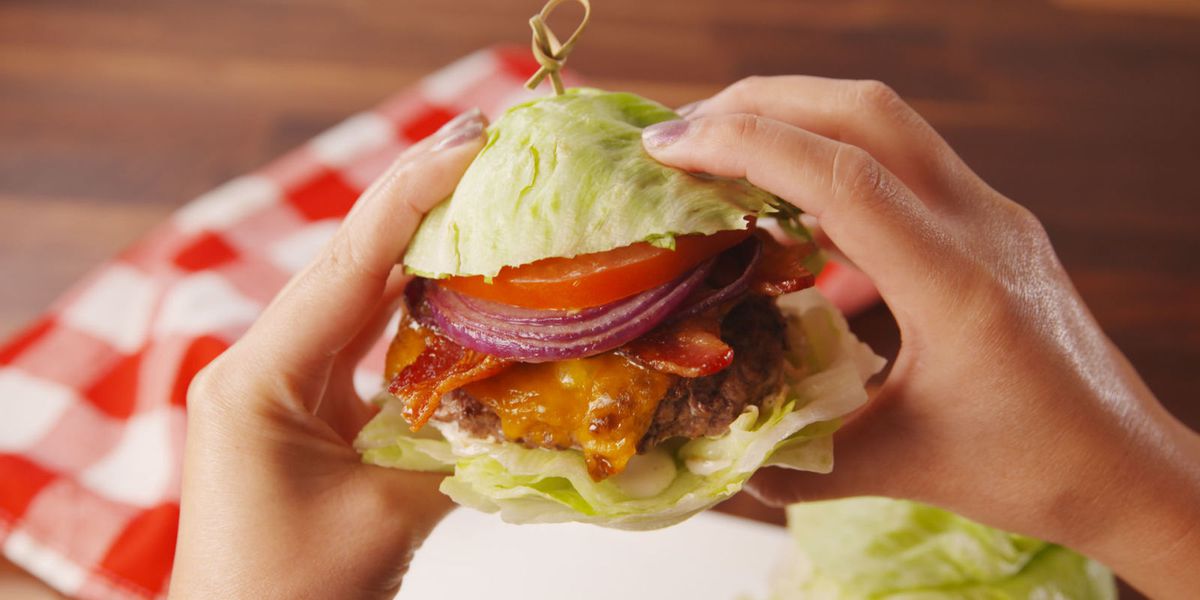 Caption: Burger Buns Replaced by Lettuce Wrappers.
Source: delish.com
We just cannot get enough of burgers, can we? It is probably one of the best things we have created since sliced bread. While we enjoy these amazing creations, it is clearly not the best of options if you are planning to lose weight. Forget what's inside, the outer of buns alone contains a good amount of calorie which is pretty easy to avoid.
1 Burger Bun –> 160 Calories
4 Large Outer Romaine Leaves –> 20 Calories
And just like that, you have saved 140 calories. It might not seem a lot but in the grand scheme of things, it does make a difference.
2. Replace Meat with Mushrooms
Caption: Sauteed Mushrooms.
Source: thespruseeats.com
Mushrooms have always been a go-to option for most vegetarians, but this is something a lot of us should include in our diet. Replacing red meat with mushroom can make a massive difference if you are counting calories and it does taste amazing. Not only does it contain fewer calories, but replacing meat with mushrooms can also up your intake of Vitamin D.
3 Ounces 85 Percent Lean Ground Beef, Pan-Browned –> 218 Calories
1 Cup Chopped White Button Mushrooms –> 21 Calories
With most of us missing out on plant-based protein, mushrooms can help us gain that essential Vitamin D and save 197 Calories at the same time.
3. Substitute Rice with Shredded Veggies
Caption: Shredded Veggies.
Source: goodfood.com.au
As most of us already know, Rice is all carbs and it is not the easiest to avoid this food source especially if you are from a third-world country. You can, however, add shredded veggies like onions, tomatoes, mushrooms, and spinach to this diet to make your intake healthier at the same time.
1 Cup Cooked Rice –> 242 Calories
1 Cup Chopped Zucchini –> 21 Calories
Zucchini is sure to give you a different and a flavorful taste compared to rice and does save 221 calories. It might not be the easiest of switches but can drastically change your weight-loss game if properly implemented.
4. Spread Avocado on your Toast instead of Butter
Caption: Avocado Spread on Toast.
Source: cooklight.com
Now, this might be the most millennial thing to do but it is done without a reason. Avocado spread on a toast is not only delicious but using this as a substitute instead of butter can give you necessary fiber, vitamins, and minerals. Moreover, it even contains potassium which can control blood pressure.
1 Tablespoon of Butter –> 102 Calories
1 Tablespoon of Ripe Mashed Avocado –> 24 Calories
With the minerals and vitamins that Avocado contains, you are sure to feel full for longer whilst saving over 78 calories.
5. Use Lettuce instead of Burrito's Tortilla
Caption: Lettuce Wrapped Burrito.
Source: mylifecookbook.com
Just like replacing the Burger Buns with Lettuce Wrap, you can do the same for tortillas. Again, Lettuce is a key ingredient if you are looking to lose weight and using it instead of a Burrito's tortilla is a must.
1 Burrito Sized Flour Tortilla –> 290 Calories
1 Cup Shredded Romaine –> 8 Calories
Saving 282 calories is actually a huge deal and it can go long way into your journey to weight loss. Moreover, lettuce does give you some crunchiness, so you are likely to enjoy your meal.