Peyton Manning is a former American quarterback footballer. He had played 18 seasons in National Football League. He was first drafted by Indianapolis Colts where he played for 14 seasons. Last four season he played with Denver Broncos and got retired. Manning had also recorded numerous awards which enhances his performances.
Apart from this field, he is a businessman, philanthropist, and an actor. He has also appeared in several TV shows and advertisements. Although he does not plays football, but still, he finds his way to be involved in American football. A long time ago he has been a donor to Republican candidates. Let us find more details of Peyton Manning below.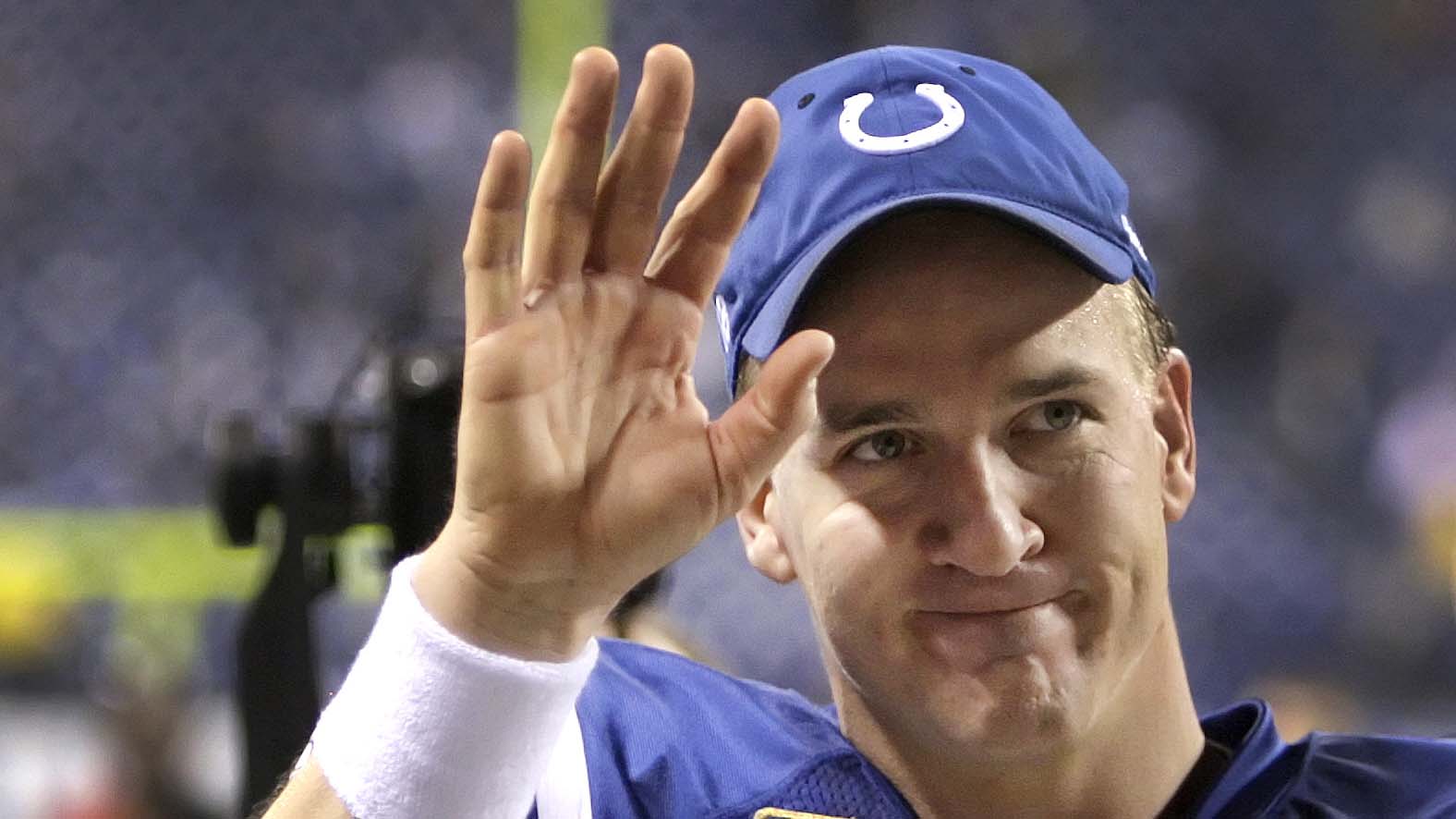 Caption: Peyton Manning
Source: indystar.com
Peyton Manning: Early life, education, and career
Peyton Manning was born on March 24, 1976, in New Orleans, Louisiana which makes his nationality an American. His birth name was Peyton Williams Manning. He is the second son of former NFL quarterback Archie Manning and Olivia Manning. He has two brothers Cooper Manning (older brother) is a former football player and Eli Manning (younger brother) who is also an NFL player.
Manning went to Isidore Newman School in New Orleans where he led a football team for 3 seasons. Then he attended the University of Tennessee and graduated in speech communication. Manning also played 4 seasons of football for the University.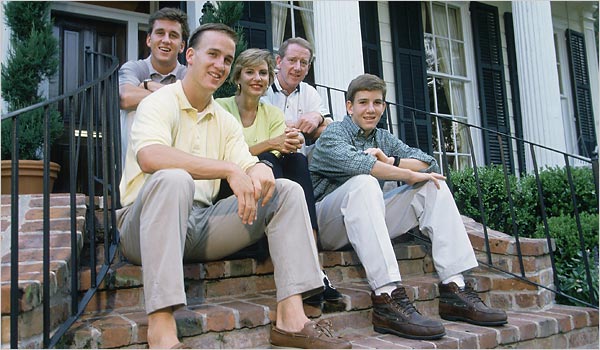 Caption: Peyton with his parents and brothers
source: The New York Times
In 1998, he was selected by Indianapolis Colts where he has played for 13 seasons. But in 2011, he missed the game because of severe neck injuries. Then in 2012, he was released by Indianapolis Colts. Later in 2012, he joined Denver Broncos where he played from 2012 seasons to throughout the 2015 seasons. He holds the record of NFL's Most Valued Player, which he gets 4 with Indianapolis colt and one from Denver Broncos. Also, he received 2 Super Bowls championship and many more.
Peyton Manning: personal life and wife 
Peyton Manning married his long-term girlfriend Ashley Thompson Manning, who is an American Entrepreneur. They were introduced in 1993 by Ashley's parent's neighbor while they were still in sophomores. After spending almost 8 years together, they tied the knot on 17 March 2001. Now, the couples are proud parents of twins son and a daughter.
Apart from being a football player, he is also a philanthropist. Manning along with his wife founded a charity organization called" The Peyback Foundation" which specializes in providing opportunities for young men and women. Furthermore, he has purchased 21 outlets of Papa John's Pizza all in Colorado. In addition to this, he is also a long time donor to Republican politicians where he has donated over $8,000.

Caption: Peyton Manning & family
source:justjared
In 2003, while he was playing with Colts, a trainer had accused him of sexual harassment stating that he swore. The American documentary "The dark side" by Al Jazeera says that he possessed performance-enhancing drugs and sold it to other star players. Later, Manning had denied it and further added he would plan to sue the documentary by Al Jazeera.
 Peyton Manning: net worth
Manning, 42, is a legendary quarterback football player. During his time in NFL, he was one of the top recruited player. At a high peak of his career, he had gathered a huge sum of $400 million. At present, 2018, his net worth is estimated to be above $200 million.
Besides being an athlete, he is also a businessman and an actor. He had also done many endorsements and commercials which has helped him grow his net worth. With this huge net worth, he surely is living a luxurious life with his family. Manning lives in a mansion worth $4.5 million which is located in Cherry hills village, Denver, Colorado, USA. Manning is not active on any social media platforms like Facebook, Instagram, and other platforms.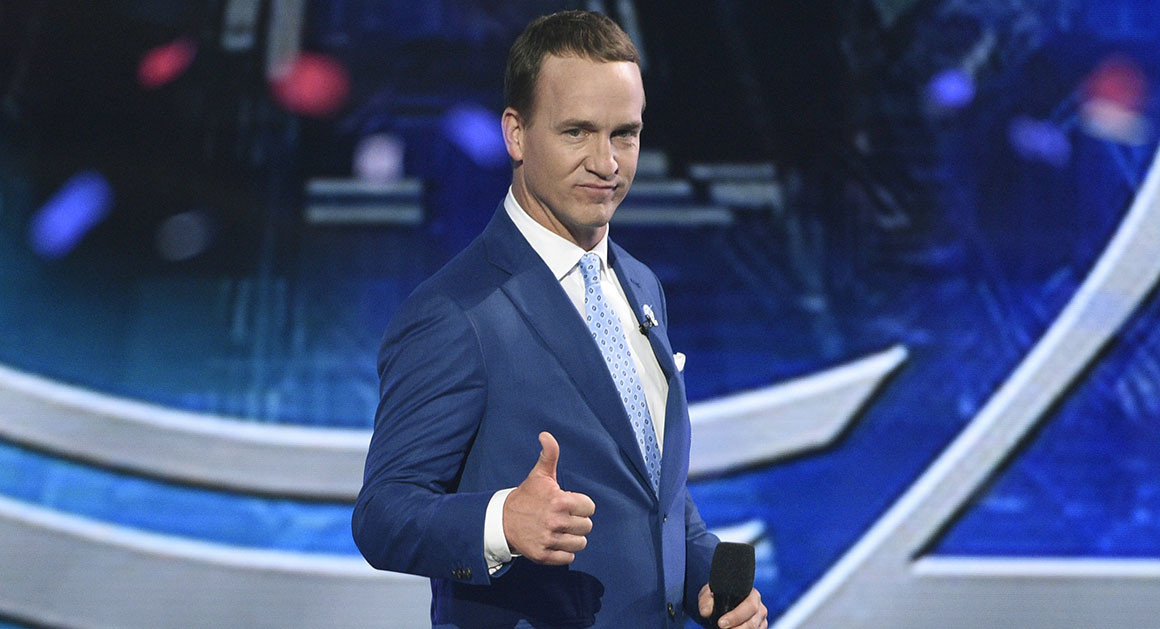 Caption: former quarterback of NFL, Peyton Manning
Source: Politico