When you talk about the drag queens, then who will come to your mind. Though there are many popular drag queens, RuPaul Charles, the queen behind the reality show that introduced mainstream audiences to the art form of drag, 'RuPaul's Drag Race' would pop out in many of ours minds. In case if you are not familiar with the drag queen, he is an American actor, writer, producer, singer, songwriter, host, and model.
Charles also received six Primetime Emmy Awards for his reality competition show 'RuPaul's Drag Race'. His shoe further sketches the variety of comedy with serious topics like the female or black empowerment, politics, and misogyny. The multi-facet personality has made a career in several categories of entertainment. Would you like to learn more about it? Then scroll over to discover.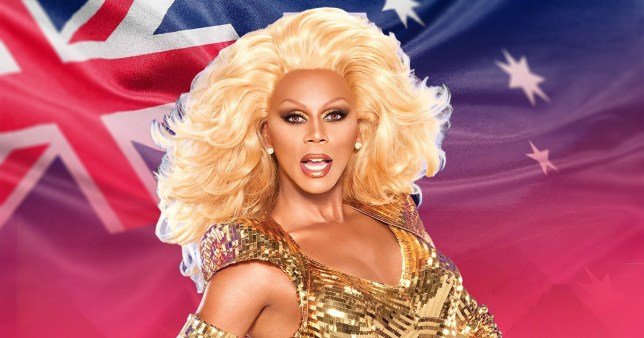 Caption: American host, actor, and singer, RuPaul Charles.
Source: Metro
RuPaul: Bio, Family, Early Career
The talk show presenter was born as RuPaul Andre Charles on 17 November 1960 in San Diego, California. His name RuPaul was named by his mother which means Ru 'roux', a word for gumbo or creole stews and soups. He grew up with his mother and three sisters after the divorce of his parents in 1967.
At the age of fifteen, he moved with his sister Renetta to pursue performing arts in Atlanta, Georgia. However, he has not revealed information on his high school or college. Further, in his career-beginning, he struggled as a musician and filmmaker during 1980. At that time, he has worked at Atlanta's famed Plazza Theatre and debuted in 1982 through Atlanta public access variety show 'The American Music Show' for years. He had also performed as a backup singer to Glen Meadmore and drag queen Vaginal Davis.
https://www.instagram.com/p/B9H4svgpwJ_/
In the 1990s, he already been famous in the UK and popularly known for his appearances on Channel 4 series 'Manhattan Cable'. Also, he performed solo in gender bender-style performances in collaborating with other bands in several New York City nightclubs. And he worked in the annual Wigstock drag festival over the years and appeared in the documentary Wigstock: The Movie.
RuPaul: Career & Life Achievements
In 1993, he started his career as a musician who recorded the dance/house album 'Supermodel of the World' that year. The album was released through the rap label Tommy Boy peaking at 45 on the Billboard Hot 100. His next two singles/videos, 'Back to My Roots' and 'A Shade Shady (Now Prance)' released that both went to the top spot on the Billboard Hot Dance Music/Club Play chart. After that, he signed with a modeling contract for MAC Cosmetics.
The next year he landed hosting a talk show 'The RuPaul Show' on VH1 interviewing celebrity guests and musical acts. He co-hosted the show along with Michelle Visage, with whom he also co-hosted on WKTU radio. Thereafter, he released his second album, 'Foxy Lady' but with the L.A.-based Rhino Records label. In 1997, he released his third album, a Christmas album entitled 'Ho Ho Ho'.
https://www.instagram.com/p/B9N8HMBJfXZ/
RuPaul began producing a reality television game show 'RuPaul's Drag Race' during mid-2008 that aired on Logo in February 2009. In April 2011, after the finale of season 3 of the show, he released his sixth studio album 'Glamazon', produced by Revolucian. The album hit 11 on Billboard's Dance/Electronic Albums and 8 on the Billboard Top Heatseekers chart. In the same year, he released another remix EP 'SuperGlam DQ' featuring the remixes of tracks from Glamazon with a new song, "Sexy Drag Queen".
His other discography includes Born Naked(2014), Realness(2015), Slay Belles(2015),  Butch Queen(2016), American(2017), Christmas Party(2018), and You're a Winner, Baby(2020).
Other Ventures:
RuPaul has also tried out in other fields like acting, entrepreneur, and became a voice actor for the audiobook 'A Day the Life of Marlon Bundo'. He debuted his podcast 'RuPaul: What's The Tee? With Michelle Visage' on 6 April 2014. He hosted the podcast along with his fellow friend Michelle Visage, a judge from RuPaul's Drag Race.
https://www.instagram.com/p/B9A9G8FJeTQ/
Further, he has also appeared in several movies and television series. Besides he is also credited as a producer and writer. His movies include 1995 'A Mother's Player', 1996 'A Very Brady Sequel', 2000 'The Truth About Jane', 2006 'Zombie Prom: The Movie', and 2019 'Trixie Mattel: Moving Parts', among others. In 2019, he appeared in the music video of Taylor Swift 'You Need To Calm Down'. He has appeared as a guest in many TV series like 1998 'Hercules', 2010 'Ugly Betty', 2016 'The Muppets', 2017 '2 Broke Girls', and 2017 'BoJack Horseman'.
RuPaul: Personal Life & Partner
The world's most popular drag queen has announced openly gay a long time back. However, he has tightened his lips on his private life and does not talk much about his personal life. But he is known for his marriage to his longtime boyfriend Georges LeBar which he revealed in an interview with 'Hollywood Today Live'. LeBar is a renowned painter and Australian rancher.
In a conversation with Oprah, he recalled that his partner is loyal toward him. He further added they first met at now-closed New York City club 'Limelight' in 1994 during Georges' birthday. Since then, they are together and no conflicts have affected their relationship.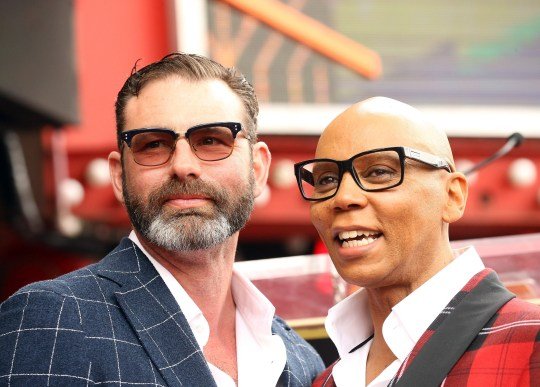 Caption: RuPaul and his partner Georges LeBar.
Source: Metro
RuPaul: Net Worth & Social Media Profiles
The popular recording artist has made a huge amount form his career as an actor, model, author, and hosting shows. Therefore, he has a net worth estimated at around $60 million. Further, he bought a neoclassical chateau for $13.7 million in Beverly Hills.
He is also active over different social media platforms like Instagram and Twitter. On Instagram, he has an account @rupaulofficial with 4 million followers. He has a Twitter account @RuPaul with 1.4 million followers. On Facebook, he goes by the handle @RuPaul over 1.3 million followers.
https://www.instagram.com/p/B9H8CSLpQJL/
RuPaul: Body Measurements
The drag queen has a slim and well-trained body that stands to a tall height of 6 feet 4 inches or 1.95 meters. His body weighs around 65 kg but other body measurements are not available. He has a bald and light brown eyes color.
Read about celebrities like Sean Teale, Hugh Jackman, Kris Ford, Joe Scarborough.