Russell Wilson is an American football quarterback for the team Seattle Seahawks of the NFL. Seahawks selected him with the 12th in the third round of the 2012 NFL draft. Since then, he has been playing for the team and named to seven Pro Bowls and appeared in two Super Bowls, winning Super Bowl XLVIII.
Besides playing football, he is also a professional baseball, as of 2019, his baseball rights are held by the Trenton Thunder, a Double-A affiliated of the New York Yankees. Moreover, in 2019, he had signed a four-year extension contract with Seahawks with a $140 million making him the highest-paid player in the NFL. If you want to know more about the player then stay tuned.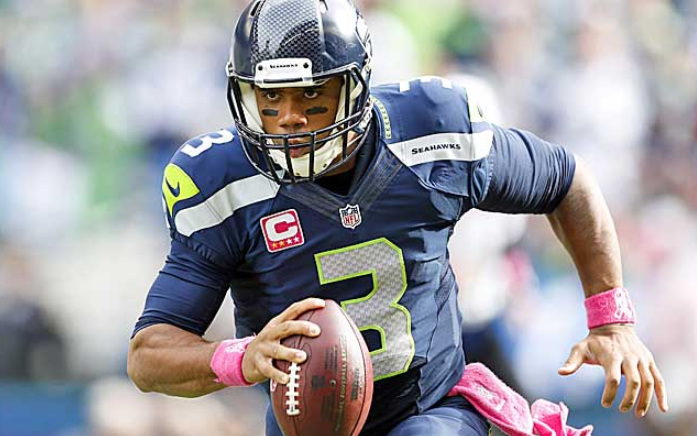 Caption: Professional football and baseball player, Russell Wilson.
Source: Cbssports
Russell Wilson: Bio, Family, Education
The American athlete was born on 29 November 1988 in Cincinnati, Ohio as Russell Carrington Wilson. He was born as the middle child to the parents Harrison Benjamin Wilson III and Tammy Wilson. His father was a lawyer who also played football and baseball at Dartmouth as well as a wide receiver for the San Diego Chargers in 1980. However, in June 2010 at the age of 55, his father died of diabetes complications. His mother worked as a legal nurse consultant. Further, he has two siblings: an older brother, Harrison IV, played football and baseball at the University of Richmond. While his younger sister Anna plays basketball for Standford. He started to play football with his father and brother from the age of four. And he played his first organized game in the sixth grade for the Tuckahoe Tomahawks youth football team.
For his education, he attended a preparatory school, Collegiate School in Richmond, Virginia. Since high school, he has been playing football and threw for 3,287 passing yards, 40 passing touchdowns, rushed for 634 rushing yards, and 15 rushing touchdowns, as a junior. Later, as a senior, he threw 3,009 passing yards, 34 passing touchdowns, and 7 interceptions. In his high school game, both junior and senior games, he named different titles including twice 'RichmondTimes-Dispatch player of the year' and All-State player of the year. During that time, he also attended Manning Passing Academy, a summer football clinic run by Peyton Manning.
College and football career:
In 2007, he joined North Carolina State University and joined the college team. However, in 2007, he redshirted during that year seasonal game at NC State. Following year, he initially split time at quarterback with senior Daniel Evans and junior Harrison Beck. After that, he led the team to 4-3 record in the regular season. Later, he threw 186 yards, a touchdown, and 46 yards rushed before halftime during the 2008 PapaJohns.com Bowl against Rutgers.
In 2009 season, he broke Andre Woodson's all-time NCAA record of 325 consecutive passes against Gardner-Webb. Therefore, he named honorable mention All-ACC. In 2011, he graduated in three years BA in communication from the NC State and took business courses in the fall semester during the 2010 football season. That year in June, he joined Wisconsin and committed to play for the 2011 season game. Additionally, he named first-team All-Big Ten by both the coaches and media. Also, he won the Griese-Brees Big Ten Quarterback of the Year award. Therefore, Wilson completed his college football career at the 2012 Senior Bowl, in January 2012.
Russell Wilson: Career & Life Achievements
He started his professional football career in April 2012 when Seattle Seahawks selected him in the third round, 75th pick overall of the draft. He became the sixth quarterback to be selected that year. Wilson debuted his first game with the team against the Tennessee Titans and had first preseason start against Kansas City Chiefs in August. In September 2012, he made his regular-season debut against Arizona Cardinals. In his year, he made his postseason debut in the NFC Wild Card Round against Washington Redskins. There he completed the game for 187 yards passing, rushing for 67 yards as the Seahawks won for a 24–14 comeback victory against Redskins.
In 2013, the team Seahawks opened the 2013 season with the first 4-0 start in franchise history, however, lost to Indianapolis Colts in Week 5. In Week 13, against Saints, he had a victory with 151.4 passer rating and culminating in a 34–7 which he posted stating career-high. And he garnered title second NFC Offensive Player of the Week award. Also, for the 2013 season, he earned a bonus of $169,141.73 through the NFL's Performance-Based Pay program.
In 2015, he signed a 4-year extended contract with Seahawks with $87.6 million making the highest-paid player in the NFL. Further, in the opening season, he had a career-high 32 completions on 41 attempts for 251 passing yards, one touchdown, and one interception in a 34–31 overtime loss to the St. Louis Rams. After giving his best in the 2015 and 2016 season games, he drew two minor injuries in 2016 followed by his ankle during Week 1 against Miami Dolphins and left knee during Week 3 against San Franciso 49ers.
Again in 2019, he had signed a four-year extension contract with a $140 million contract with the Seahawks. He finished the 2019 season with 4,110 passing yards, 31 passing touchdowns, and 5 interceptions and the team finished wit 11-5 record and made playoffs as the NFC's #5 seed.
Baseball Career:
Alongside with his football game, he also played baseball. After graduating high school, Baltimore Orioles selected him with the fifth pick in the 41st round, 1,222nd overall in 2007 MLB draft. However, he elected himself to attend NC State and became a member of the NC State Wolfpack baseball team. There he played from 2008 to 2010 and during his collegiate career, he hit .282/.384/.415 with five home runs and 30 runs batted.
His professional baseball career started on 8 June 2010 when Colorado Rockies drafted him in the fourth round of the 2010 MLB draft. He finished the season with two home runs, 11 RBIs, and a .230 batting average with the team. Then in 2011, he played 61 games with Asheville Tourists and traded to the New York Yankees in 2018. Before that, in 2014-15, he attended Rangers spring training in Surprise, Arizona. Then in March, he pinch-hit for Aaron Judge in the fifth inning against the Atlanta Braves.
Other ventures:
Besides playing games, he has also tried his hand in different business ventures and endorsements too. He has appeared in commercials for brands like Levi's, Pepsi, Nike, Alaska Airlines, Duracell, and American Family Insurance, among others. Further, in 2016, he co-launched his own clothing line under the name 'Good Man Brand', and also partnered with Juice Press to open the first franchise in Seattle. He became one of the investors investing in the company football helmet manufacturer VICIS.
He has also made appearances on different television talk shows including 'Late Show with David Letterman', 'Jimmy Kimmel Live!' and in 2015 film 'Entourage' as well.
Russell Wilson: Personal Life & Wife
Speaking about the personal life of the player, he is married twice and divorced once. He is currently happy with his second wife Ciara Harris with whom he is together since 2015. Harris is an American singer, songwriter, dancer, and model. She has released hit albums including 2004 'Goodies', 2006 'Ciara: The Evolution', and single 'Love Sex Magic' featuring Justin Timberlake. They wedded on 6 July 2016 after dating a year at Peckforton Castle in Cheshire, England.
Together, they had welcomed their first child, daughter on 28 April 2017. Recently, in 2020, they had announced they expecting their second child. In addition, Ciara had also produced a son born in 2014 through her relationship with Future. Furthermore, Wilson was previously married to his first wife, Ashton Meem in 2012. They were high school sweethearts but their married life didn't last for long and separated in April 2014.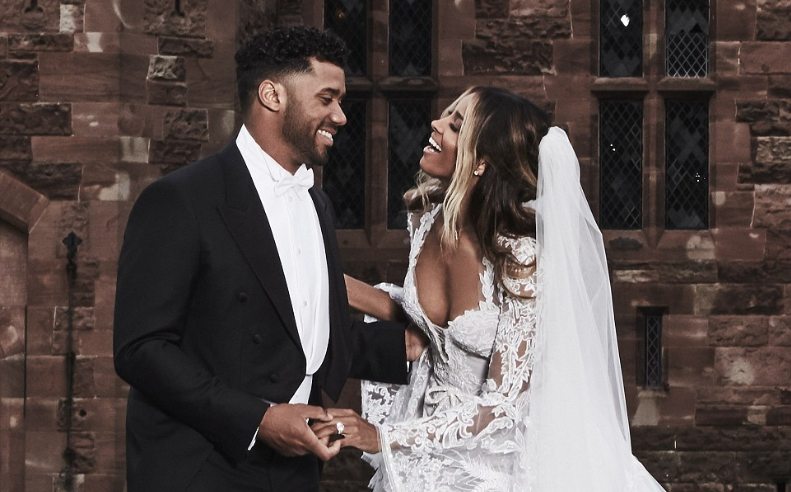 Caption: Russell and his wife Ciara.
Source: Dailymail
Moreover, he is also an active volunteer in the Seattle community. He hosts the annual charity golf with NASCAR driver Kasey Kahne to support various organizations like Seattle Children's Hospital. Additionally, Wilson had also partnered with Russell Investments for its "Invested with Russell" program in 2013 and 2014. Further, he also donated $3,000 to Wilson's charitable foundation for every touchdown he had scored.
Russell Wilson: Net Worth & Social Media Profiles
The popular football player has made a huge amount from his profession as a professional NFL player. Since 2012, he has been playing with Seattle Seahawks who picked him in the third round or 75th pick overall of the draft. He signed a four-year with Seahawks with a $2.99 million contract. After the end of the season, he garnered a bonus of $222,000 and also reported that he had a salary of $662,000. According to Forbes, he has a net worth estimated at around $42 million almost eight years of his career which is likely to be increased in the coming days as his involvement in the games.
Besides being in the ground, he is also highly active over different social media platforms with personal and verified accounts. On Facebook, he has an account of having more than 2.1 million followers. He has a Twitter account @DangeRussWilson with 5.4 million followers. On Instagram, he goes by the handle @dangerusswilson with 4.4 million followers.
Russell Wilson: Body Measurements
The NFL quarterback has a strong body as his profession wanted to have him. Therefore, he has a fit and muscular body that stands to a height of 5 feet 11 inches or 1.80 meters. His well-trained body weighs 98 kg or 215 lb with unknown body measurements. He has black eye color with short black hair.