James Rallison goes by the online name TheOdd1sOut. Moreover, he is popularly recognized as an American YouTuber, cartoonist, animator, as well as author. He has launched two YouTube channels under the name 'TheOdd1sOut' and the second channel  'TheOdd2sOut'.
His first channel has collected over 17 million while his second channel has over 2.7 million followers. He has garnered this huge follower following the videos on animated stories telling on his channels. Additionally, he has collaborated with famous YouTubers like Mr. Beast, PewDiePie, Ian Carter (iDubbbz), and Jake Paul. Wanna know more information on the social media influencers then keep on scrolling.
Caption: The YouTuber and drawer, James Rallison (TheOdd1sOut).
Source: YouTube
James Rallison: Bio, Family, Career
The YouTuber was born on 14 May 1996 as Robert James Rallison in Chandler, Arizona, the United States. He was raised by his mother Janette Rallison and has adopted his mother's surname. But no information on his father. Further, he has a twin sister named Faith and an older brother Luke. Also, he has an older sister and a younger sister. He has a nationality of American and was brought up in a Mormon family.
Regarding his education, he attended Perry High School in Gilbert, Arizona. He has not provided further details of his higher education. However, he made his career as an artist who gained popularity as a cartoonist and animator. Therefore, he used the digital platform, especially YouTube where he interact with his followers through his creations. Additionally, he claimed that he did not have any formal training in drawing. But he developed an interest to be a cartoonist as a child.
On 30 August 2014, he created his YouTube channel under the username TheOdd1sOut. The channel has garnered 17.5 million subscribers and over 3.7 billion views as of January 2022. He has gained millions of followers on his channel through his artist stories, video reactions, and thoughts. In December 2017, he launched his second channel TheOdd2sOut having 2.77 million followers and more than 132 million views.
At the age of 16, he uploaded his first comic strip on Tumblr. Following that, he began to release his comic strip after a year of a stint of work and struggle. He has also emerged as an author and published his first book 'The Odd 1s Out: How to Be Cool and Other Things I Definitely Learned from Growing Up' in July 2018. His other creation was a mobile game named under TheOdd1sOut: Let's bounce!.
James Rallison: Personal Life & Girlfriend
Speaking of his personal life, he is possibly single at the moment and not linked with anyone. However, he has hidden most of his private affairs away from the prying eye of the media. Anyway, his followers have made many speculations of him having a romantic relationship with a fellow YouTuber and cartoonist, Jaiden Animations.
But no information is confirmed about their romance on the net. But they collaborate on each other YouTube channels. Moreover, he has not been involved in any kind of rumors or controversies. He has also pet several pets: a dog and 7 cats.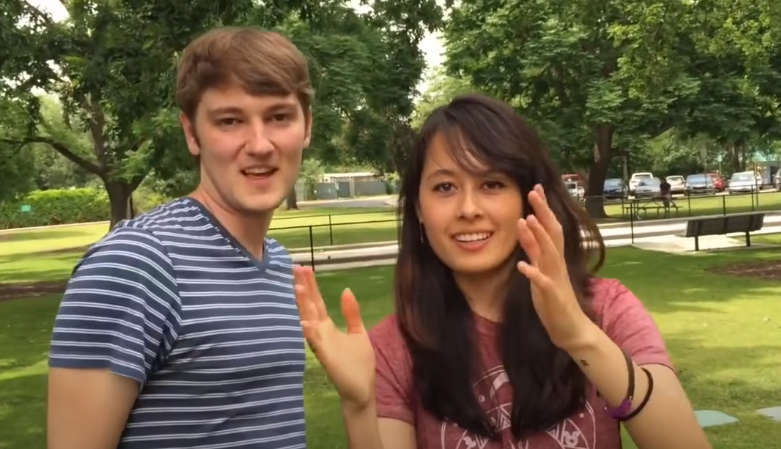 Caption: James Rallison and Jaiden Animations.
Source: YouTube
James Rallison: Net Worth & Social Media Profiles
His main source of income comes from his YouTube channel as well as drawing cartoons. Further, his channel has earned over million views in his most of the videos which helps him to generate a revenue of around $12,000 per day and $4 million yearly. In addition, YouTubers get paid $2-$7 per 1000 views which are monetized as well as paid advertisements too.
Therefore, he has an estimated net worth of above $8 million which he also makes from publishing webcomics and books too. Apart from that, he is also highly active over different social media platforms with verified accounts under his alias name, 'TheOdd1sOut'.
On Instagram, he has an account @theodd1sout with 2.8 million followers. He has a Twitter account @theodd1sout with 1.8 million followers. Also, he has an unverified Facebook account with more than 80.5k followers.
James Rallison: Body Measurements
The social media influencer has a slim and well-maintained body that has an unknown body measurement. But his body stands to a height of 5 feet 10 inches or 1.77 meters and weighs around 65 kg. He has brown eyes color and light-brown hair color.